Manage Languages
You can manage all the languages from here.
SETTINGS  LANGUAGES
---
Add New Language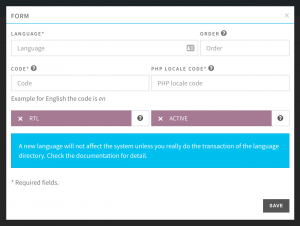 The add language form will look like this. You can set all the necessary information for the language. The CODE and the PHP LOCALE CODE is the most important information to make the language works.
— Find the complete list of codes here.
— Find the complete list of PHP locale list here.
— If the language is RTL(right to left) type language then select the RTL.
Warning! The PHP LOCALE CODE must to be avalid one and the CODE have to be exact match with the original translated local directory name. Example: for English the code is en. You'll find the directory in your project at resources/lang/
If you have more than one active language then visitors will see the language dropdown option on the marketplace front-end. See the below image.