Subscription Plans
INFO: This module is optional. If you don't want marketplace subscription based then you can disable the subscription completely. Do do so please check the how to section of this documentation.
Create subscription plans for the vendors. Vendors will see the offers on the merchants landing page and will be able to register any of these plans you created here. Set the plans very carefully.
The default vendor subscription billing provider is
Stripe
. If you want to use
Paddle
or
Mollie
instead of Stripe. Please contact us, we can help to migrate.
You can offer a trial period with your subscription plans and also can set if a vendor needs to add a card at the time of registration.
SETTINGS  CONFIGURATION
If you offer a trial period and the required card upfront is enabled then the merchant will be charged as soon as the trial expires. Otherwise, the subscription will be deemed and all listings from the vendor will disappear from the marketplace.
If the vendor is on trial, then you will see the Trailing flag next to their name. If the vendor doesn't have a card linked on his/her account then the trial will be called generic trial and a On generic trial flag will be shown next to their name.
Create Stripe Subscription Plans
First, you have to create Stripe subscriptions. You can check out the Stripe's documentation here for creating subscriptions. Then create the same subscription plan on you zCart admin panel.

Warning: The subscription plan ids have to be exact same in both platform(Strip and zCart).
SETTINGS  PLANS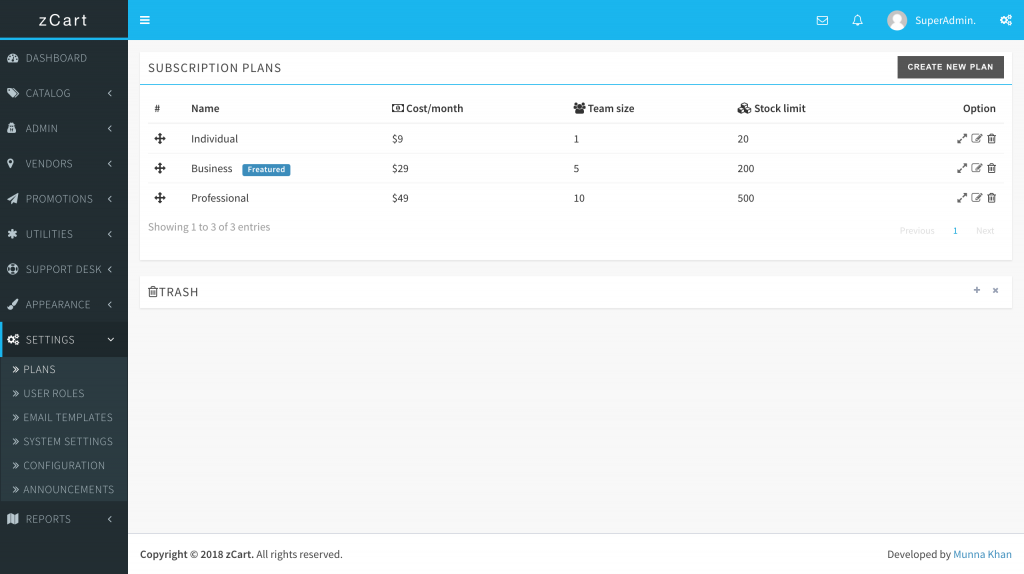 TIPS: It's recommended to create maximum 2 or 3 plans, not more than three.