Business Area
Setting an active business area is important when you want to operate your marketplace operation in a limited area. The business area is a combination of countries and states/reasons. You may watch this tutorial or follow the below steps:
Warning: 
The active status will not affect the platform's active business area if your marketplace business area is set to "Worldwide" in system settings. You can set your operation type from
SETTINGS  SYSTEM SETTINGS
When your business area is limited, you can control your active business area from this module. All active countries and states/reasons will be included in your active business area, vendors will be able to include active areas only to their shipping zones.
SETTINGS  BUSINESS AREA
Under a country, you can add all states/regions to set your business area. Click the + button on the right option column to manage states/regions.
States/Regions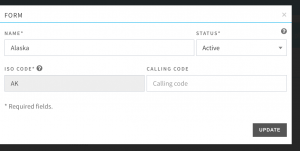 You have to know the universal ISO values of the states/regions you want to add in your active business area. On the left, the image shows the information about Alaska, a US state. Here you can find ISO values of all US states.
The system already has many regions in the database from all over the world but still, you may find some regions that are not available. You may find all the info you may need to add new regions here.
TIPS:
If you can not find the
ISO
code formate of your states/regions, this
how to
 the article can help you find out easily.